When you play with the bull,

you get the horns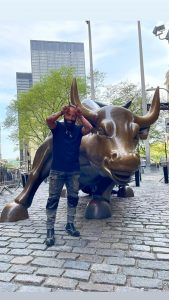 When you play with the bull, you get the horns"
is a powerful metaphor that conveys a timeless lesson about the consequences of recklessness and provocation. The phrase serves as a vivid reminder that engaging in risky or antagonistic behavior can lead to negative outcomes.
Imagine stepping into the ring with a fierce bull. Despite its intimidating presence, you decide to taunt and provoke the creature. Ignoring the warnings and disregarding the danger, you continue to play with fire. Suddenly, the bull charges, its sharp horns aimed directly at you. In that moment, you realize the gravity of your actions. The metaphor comes to life, serving as a cautionary tale of the perils of playing with forces beyond our control.
The metaphor extends beyond literal encounters with bulls. It serves as a reminder that certain actions, choices, and behaviors can have severe consequences. It urges us to exercise caution, respect boundaries, and approach potentially dangerous situations with mindfulness and wisdom.
Whether in personal relationships, professional endeavors, or everyday life, "playing with the bull" represents a metaphorical warning against taking unnecessary risks or needlessly provoking others. It encourages us to consider the potential repercussions of our actions and make thoughtful, informed decisions.
In essence, the metaphor reminds us to tread carefully, respect boundaries, and avoid needlessly tempting fate. It serves as a timeless lesson that resonates across various aspects of life, urging us to choose prudence over recklessness and caution over blind bravado.
Always Believe,
Luke
---
HYPNOSIS FOR ED (ERECTILE DISFUNCTION) ERECTILE DYSFUNCTION HYPNOSIS MUST WATCH
Hypnosis For ED (Erectile Disfunction) Erectile Dysfunction Hypnosis Must Watch!
I WAS BROKE, HOMELESS AND TOO YOUNG
HOW TO BE A SUCCESSFUL HYPNOSIS CLIENT